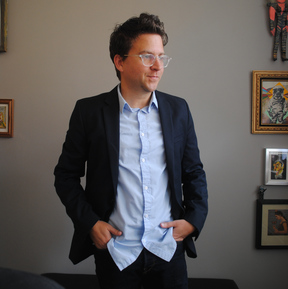 Sidney Pink is an American intermedia artist focused on dance, drawing, and sound. Pink lived in Japan between 2004-2008. His experiences with Japanese Theater, Butoh Dance, and the experimental art scene in Tokyo lead to his current performance based work.
After moving back to Baltimore, MD he Co-founded AKIMBO, a festival of site-specific dance and movement art. He has directed numerous events addressing drawing-as-performance, dance scores, and somatic practices in visual art. In 2015 he curated,
Cul de Sac
, an interdisciplinary project between visual art and dance. Pink has studied dance with Ryuzo Fukuhara, Liz Lerman, and Naoko Maeshiba.
Pink has exhibited and performed in New York, Los Angeles, Baltimore, Amsterdam, Tokyo, and Berlin. His work has appeared in various publications including
Fine Line Magazine
,
Japan's Artcollector,
and the
New York Times Magazine
. He teaches at Towson University and MICA in Baltimore Maryland.